Published on Feb 24, 2015 12:45pm
Building Her Future
Launch Magazine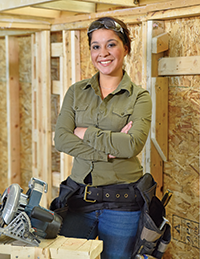 Construction student crafts a solid foundation for her goal
At 19 years old, Ypsilanti native Evelyn Hernandez already has her life planned out.
Set to graduate from WCC with her associate degree in construction technology next year, she plans to transfer to Eastern Michigan University and finish out her education in the construction management program. And while it may not have been a field that Hernandez saw herself pursuing when she first started at the college, it has now become her passion.
"I figured out that I'm really good at construction," she said. "It comes really naturally to me and I have a lot of fun doing it. I find it very inspiring."
Getting a head start
Thanks to the benefit of dual enrollment, Hernandez started earning college credits while still finishing high school. "I always wanted to dual enroll," she said. "So when the construction program at WCC came around I was really excited to try it."
Dual enrollment lets students take any class at the college for which they meet the requirements. Most dual enrollees use the opportunity to tackle their general education classes. Hernandez participated in the partnership that WCC has in place with Ypsilanti Community High School designed specifically for students to enter the Construction Technology program.
She was also able to get the cost of her enrollment covered by a grant after graduating from high school—something she is immensely grateful for. "It would take a lot for myself and my family to pay for school so to be able to get a scholarship, get my credits and get ahead was really important for my education."
Learning from the best
The Construction Technology program at WCC tops the list of hands-on industry programs in the region. Students receive training from expert faculty in their own labs created specifically for the profession. Power and hand tools are also provided.
"Having to purchase tools beforehand would have been very expensive," said Hernandez. "And what you can get might not be up to par with what you find on job sites. At WCC you get a realistic learning experience of what it's like to use industry standard tools."
To learn more about the Construction Technology program at WCC, visit construction.wccnet.edu