Published on Feb 24, 2015 12:46pm
Civilian Life Success
Launch Magazine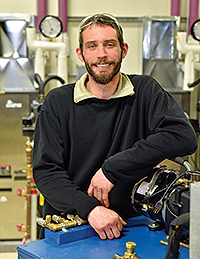 Army Veteran finds guidance at WCC Veterans Center
When Bryan Kessler left the Army in 2010 he knew he had employable skills. But refining those skills into a career was something he needed guidance with.
"I met with a counselor at the Washtenaw Community College Veterans Center and he got me on track to start a career," Kessler said. "I was taking a lot of general education classes, but my counselor set me up with classes in auto body, automotive repair and HVACR so I could explore the fields and see what I wanted to do."
During that exploration Kessler received the chance to work in the college's Heating, Ventilation, Air Conditioning and Refrigeration (HVACR) labs—an experience that came to define his career path.
"The hands-on aspect really got my attention. I've gotten more enjoyment out of my HVACR classes than anything I've ever done in school," Kessler said. "And after learning about the job stability and the earning potential in the field I knew it's what I wanted to do with my life."
Getting a helping hand
The WCC Veterans Center helps ease the transition from military life to college. They offer academic advising, veteran support, GI Bill Educational benefits assistance and an onsite VA counselor.
It's a service Kessler found invaluable.
"I frequent the Center in-between classes. It means a lot that I have a place that I can go to get what I need done in terms of being a vet and using my GI Bill. Everyone at the Center takes care of you. It's amazing."
Preparing for the future
Currently, Kessler is working towards his Residential HVACR certificate with plans to obtain an advanced certificate as well as his associate degree. "My ultimate goal would be to own my own company and to be self-sufficient one day."
It's a goal he is well on his way to achieving.
"The college helped point me in the right direction," Kessler said. "They are there to help with you with anything you need—the people there care about you on a personal level. I really enjoy attending WCC."
To learn more about the HVACR program at WCC, visit departments.wccnet.edu/hvacr