Published on Feb 24, 2015 12:47pm
Driven to Succeed
Launch Magazine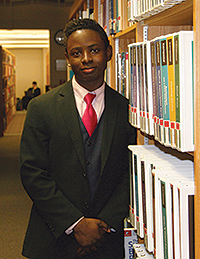 WCC student plans big for his future
Davon Shackleford knows exactly what he wants: to become a cardiovascular surgeon.
He also knows exactly how he's going to get there: after Washtenaw Community College, he will study at the University of Michigan. He already has a plan to transfer his credits thanks to WCC's relationship with U-M.
Motivated by family
Shackleford wants to be a cardiovascular surgeon after watching his father struggle with heart problems and diabetes. "I want to dedicate a portion of my life to research and trying to find cures," he said. "WCC has been a safe haven, a refuge. It's allowed me to work towards my future and reach for my goals."
The college transformed him into a young man. "WCC has developed my skills, talents and gifts. It's my bridge to the future."
Scholarship success
Shackleford pays for his WCC schooling through work study—he works on campus as a writing tutor and as an ad representative for the student newspaper—and also with a WCC Foundation scholarship.
"I'm thankful for the scholarship that has been given me, and I will remember the contribution as I go forward at U-M and throughout my career," Shackleford said. "When I succeed, I will look to give to others like the Foundation has given to me."