Published on Feb 24, 2015 12:47pm
Launch Magazine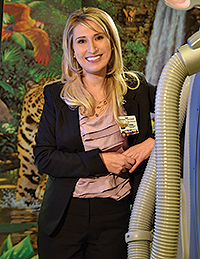 WCC grad excels in patient care profession
Kim Krosnowski always wanted to work in health care, but it wasn't until her own experience as a patient that she found where that path would lead her.
"I had to have knee surgery prior to starting at Washtenaw Community College," Krosnowski, an Ypsilanti native, recalled. "My caregivers were telling me that there was a huge need for radiographers. I decided to research the program and thought it would be a great way to get into the medical field."
The right program
The radiography curriculum at WCC is a two-year program that includes courses in diagnostic imaging and extensive clinical training in hospitals. Upon completion, students are eligible to take the national registry examination.
After starting the program in 2006, Krosnowski graduated in May 2008 before transferring to Eastern Michigan University and completing a Bachelor's of Science in Healthcare Administration. She continued her education earning a Master's in Health Care Leadership and becoming certified as a Radiology Administrator.
She credits WCC with laying out a great foundation for her education. "The Radiography program faculty knew each and every student and was always there if I ever had a question or was struggling with a concept. The whole program was amazing. WCC turns out students that are not just educationally sound, but clinically prepared and experienced to step into a staff registered radiographer position—a requirement that radiology administrators look for when filling positions."
That's a fact that she can attest to as the Director of Radiology Services at the Children's Hospital of Michigan at the Detroit Medical Center.
Getting a head start
And while Krosnowski has continued her own educational journey over the years, she advises others to start out like she did—at a community college.
"You truly get the individualized, one-on-one experience at WCC," Krosnowski said. "Even if you are just going for general studies, it's well worth it."