Published on Feb 24, 2015 12:43pm
Launch Magazine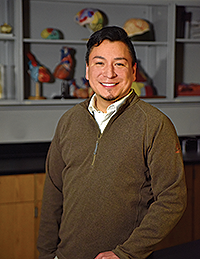 High quality education without a high tuition bill
Alfredo Silvestre, 42, knows the value of a quality education. He also knows that you don't have to pay huge tuition bills to get it.
Silvestre had dreams of attending the University of Michigan, but knew financially it wasn't a smart choice for him at the time. That's when he found Washtenaw Community College.
"WCC was very affordable," said Silvestre, who graduated from the college in 2013. "I could go to school in the day and work in the evenings. That allowed me to pay my tuition off as I went instead of taking on loans."
It's a decision, he says, many of his cohorts wished they would have made.
"Attending a community college was an extremely smart decision. Going to WCC and getting my associate degree gave me a two-year jump without having to be under enormous debt. When I talk to others who went right to a four-year university, they say if they could do it again they would go to WCC."
M-POD
Silvestre transferred to U-M in 2014, where he is currently pursuing a degree in Biopsychology, Cognition and Neuroscience. He plans on pursing his master's degree to become a physician's assistant after graduation.
His transfer was eased by WCC's M-POD program which provides students with assistance in transferring credits to U-M, one-on-one counseling and a mentorship program.
"The liaisons in the program are fantastic," Silvestre recalled. "They emailed me, checked up on me and answered all of my questions—they really were an invaluable asset."
Taking charge
Looking back on his time at WCC, Silvestre said it's a choice he thinks many others, including working adults like him, should make.
"It can be a daunting thing, but it is very doable," Silvestre said. "WCC has courses in the evening and on the weekends. Personally, I took my time and took a few courses at a time and before I knew it I was done. WCC was absolutely the smartest choice I could have made for my education."