Published on Jul 17, 2015 1:14pm
WCC grad lands dream job with new degree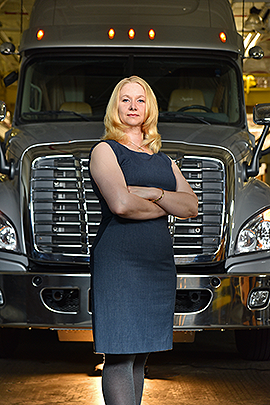 Victoria Hicks, 37, has always loved the science behind technology. As a welder, she enjoyed the hands-on approach of building and creating, but soon found herself longing to be more involved in the design process.
"I wanted to be challenged," Hicks said. "At the time, Washtenaw Community College offered a mechanical engineering and manufacturing technology program. I knew I could earn my associates degree and would have the option to transfer to another school."
That's just what she did. After graduating from the college in 2006, Hicks transferred to the University of Michigan and earned her bachelor's in mechanical engineering with a manufacturing concentration. She graduated from the University of Michigan in May of 2013 and joined Meritor in Troy, Mich. one month later where she designs drivetrain systems for semitrucks.
"It's my dream job," Hicks said. "I absolutely love it."
Goal-oriented
Reaching her goals wasn't always an easy path for Hicks, who was working, going to school and raising her 7-year-old daughter, all on her own. It took drive, commitment and determination as well as creative scheduling.
"I took a lot of night classes," she said. "I had to really learn how to manage my time. But I stayed focused and tried to stay around liked-minded people who had the same goals and ambitions."
It's that drive Hicks hopes her daughter will always remember. "If there's something you want to do, there's a way to achieve it. You just have to give it enough thought and strategy and not give up."
Helping hand
And give up she didn't. When times were challenging, Hicks always knew WCC had resources to help her.
"The instructors at WCC really know their students and are willing to reach out to assist in any way they can," Hicks said. "They helped me find resources and grant money so that I could continue with my education. They saw potential in me even when I didn't see it."