Published on Jul 17, 2015 1:14pm
Revved Up
Grad goes from community college to career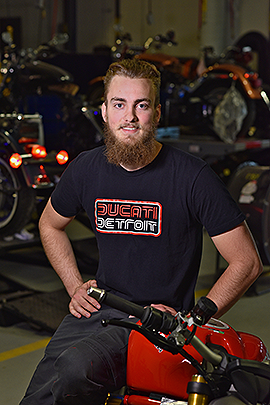 Dexter resident Evan Spaller knew he wanted a career, he just didn't know which one.
"I had spent a year at another college and didn't have the best experience," Spaller said. "I knew Washtenaw Community College was close and affordable so I decided to take a few classes and test it out."
He enrolled in 2013, starting out in both Culinary Arts and Motorcycle Service Technology. It wasn't long until the high-tech hands-on labs got him hooked.
"As soon as I walked into the motorcycle labs I got a huge grin on my face," Spaller said.
"I knew I was going to have a great time."
Ready for work
Two years later Spaller graduated with his associates degree and a job already lined up at Ducati Detroit.
"I felt really prepared to jump right into the workforce after graduating from WCC," Spaller said. "I had great instructors who have experience in the field. They are still very welcoming to me now when I come back to visit or have questions. You are never severed from the school or the faculty just because you graduate."
Choosing a college
It's that sense of belonging, along with the cost savings of a community college, that Spaller tries to impart on others. "WCC is a great way to explore your career options. You don't have to pay large fees and almost all of your credits will transfer, especially in-state."
Career and cost savings? It's a winning combination. One that Spaller will never forget.
"I really enjoyed my time at WCC. My experience there set me up for my future in the workforce."