Published on Dec 4, 2015 2:59pm
International student turns to WCC for hands-on training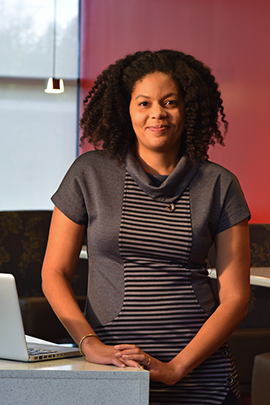 Jenelle Newman may already have a bachelor's degree and an MBA under her belt, but that hasn't stopped her from seeking the hands-on training she knows she needs to further her career.
"After I finished my undergraduate work I had to learn on the job once I got into the field," recalled Newman, who is originally from Kingston, Jamaica. "I wanted more skills training; not theoretical training like you get at four-year universities. I knew Washtenaw Community College would teach me how to do what I needed to get my work done."
She started at WCC in 2014 and is working towards her associates degree in computer systems and networking. Newman plans on graduating in 2016 and hopes to jump right into the workforce.
Pursuing her passion
Working with computers is nothing new for the 34-year-old. Her undergraduate work was done in electronics before taking distance learning courses to earn her MBA.
"I've always been interested in computers," Newman said. "I've been in the field for my entire working life. I chose networking because I love being able to find ways to solve business and user issues through technology."
And she knew that attending WCC would give her all of the training needed to follow that passion. "WCC has the most up-to-date equipment and its emphasis is more on labs and hands-on training, which is what I really wanted."
Trained from the best
While getting the practical knowledge needed for her career path was paramount, Newman also knew how important quality instructors would be to her success.
"There are many people who are in the field right now who come back to WCC to retool and to get more knowledge. It's a great reflection on the quality of instructors at the college. WCC really prepares you for your career."
Computer Support Specialists
Median Pay: $48,900 per year
Job Outlook: Employment of
computer support specialists
is projected to grow 17 percent
from 2012 to 2022, faster than
the average for all occupations.
More support services will be
needed as organizations upgrade
their computer equipment and
software.
Information from bls.gov