Published on Nov 2, 2017 2:11pm by Richard Rezler, Public Relations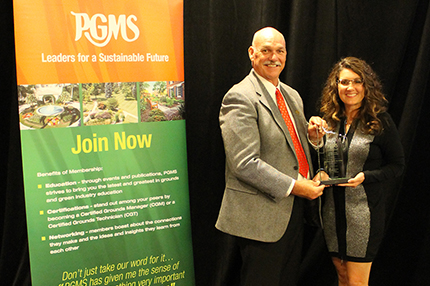 For the second time this year, an authoritative national organization has recognized Washtenaw Community College for the work it does to maintain the beauty of its 295-acre campus.
The Professional Grounds Management Society presented WCC with a Grand Award – its highest honor – as part of its 2017 Green Star Awards. WCC earned the award in the "School Grounds for K-12, Technical Schools and Community Colleges" category for its exceptional grounds maintenance. Only seven other Grand Awards were granted across 13 different categories in the nationwide competition.
In April, WCC was one of just four colleges in Michigan to receive Tree Campus USA certification from the Arbor Day Foundation and the Michigan Department of Natural Resources.
WCC Landscape & Grounds Maintenance Manager Holly Herman accepted the PGMS honor during the society's 2017 Awards Dinner held in conjunction with its School of Grounds Management and GIE-EXPO held October 18-21 in Louisville, Kentucky.
"I received overwhelming, positive feedback from the judging committee and other PGMS members at the conference," Herman said. "Members of the Green Star Award committee shared that it is unusual to win the Grand Award as a first-time entrant. They were so impressed with our submission that they asked if I would join them on the judging committee for next year's awards."
A special reception to congratulate the Landscape and Grounds department for its latest accolade was held prior to the WCC Board of Trustees meeting on Tuesday, October 24.
"We really appreciate the work our Landscape and Grounds department does on a day-to-day basis to make this such a wonderful campus," WCC President Dr. Rose B. Bellanca said during the reception. "The work they do makes us feel welcome when we arrive and makes us feel safe while we're here. And it helps our students and employees feel respected. When they go to school, or come to work, they deserve to arrive at a beautiful place. Thanks to this crew, that's exactly what happens every day."
In selecting WCC for the honor, PGMS noted the nature trails and more than 60 different species of trees on campus; applauded the selection of evergreens, red-twigged dogwoods and ornamental grasses to "soften the long, bleak winters" and the beds of serviceberry, hydrangea, lilacs, daylilies and annuals featured throughout the campus during warm seasons. It also recognized the on-campus Community Park, which is circled with flowering crabapple trees that represent each school district in Washtenaw County and symbolize the apple orchard that once occupied the land where the college is located.
The Green Star Awards program brings recognition to grounds maintained with a high degree of excellence. This year, PGMS presented eight Grand Awards, 23 Honor Awards and six Merit Awards in 13 categories. View the list of 2017 winners.
Founded in 1911, PGMS is an individual membership society of grounds professionals dedicated to advancing the grounds management profession through education and professional development. Further information on PGMS, the Green Star Award Program and the annual School of Grounds Management & GIE+EXPO is available online at PGMS.org.
---
Media contact: Susan Ferraro, 734-677-5295, snferraro@wccnet.edu