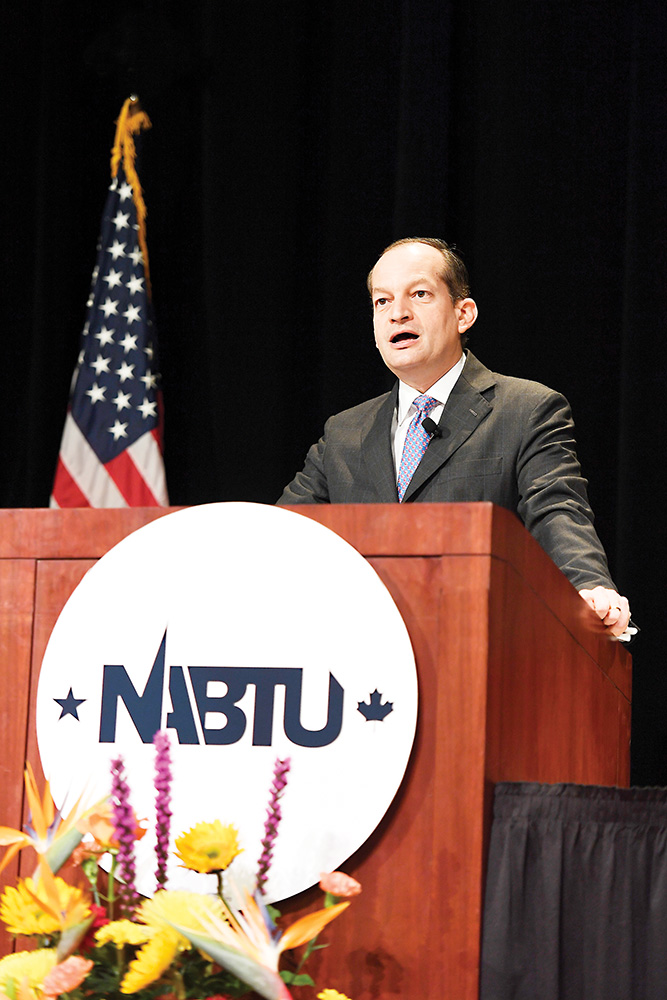 America needs more people in the skilled trades. That was the simple but powerful message delivered by U.S. Department of Labor Secretary Alexander Acosta addressing the opening session at the Building and Construction Trades Apprenticeship Training Conference at Washtenaw Community College on October 4.
"The United States has 6.2 million job openings. That is the highest number of job openings ever in the U.S.," Acosta said. "In the building trades industry alone, there are more than 250,000 job openings."
The building and construction trades conference is one of the ways that industry and education partners like WCC are working to address the skilled labor shortage.
More than 200 building and construction union trainers attended the conference to learn the latest developments in apprenticeship programs, occupational safety and health, and new training techniques.
"Through apprenticeships, we are creating opportunities to train for careers to last a lifetime and move families into the middle class," said Sean Garvey, President of North America's Building Trades Unions.
The trainers at the conference represent a portion of the 1,900 apprenticeship training centers across the U.S., where tens of thousands of apprentices train each year.
"If you were to compare the number of apprentices enrolled in these programs to major university enrollment, the programs would be the third largest enrollment in the nation," noted Acosta.
While the building trades unions are working hard on the supply of skilled labor, getting high school students interested in skilled trades remains a challenge.
According to Acosta, too many high schools are putting too much emphasis on college entrance exams and not enough emphasis on helping students find career-sustaining jobs in the years after graduation.
"No one is talking to students about the opportunity to be part of an apprenticeship program," said Acosta. "Every student out there deserves the counseling appropriate to his or her career goals."
In Michigan, the starting salaries of craftspeople are often competitive with, if not higher than, that of a college graduate.
Governor Rick Snyder has proposed a class be offered prior to students entering high school that would expose them to more career options, so that they can select high school electives that would be more focused on their chosen career paths.
WCC is working with two union training partners — the United Association of Journeymen and Apprentices of the Plumbing and Pipe Fitting Industry of the United States, Canada (UA) and Ironworkers — to address the skilled trades gap though innovative associate degree and pre-apprenticeship programs.
Through the UA University at WCC, UA members can complete their associate degree in Construction Supervision, Journeyman Industrial or Industrial Training in five online classes. By taking one class a year, UA apprentices can graduate from WCC with a degree at the same time that they complete their apprenticeship.
WCC's Ironworkers pre-apprenticeship program introduces students to the skills needed to be an Ironworker across the United States and Canada. Students who successfully complete the program are eligible for advanced standing in the Ironworker Local Union Apprenticeship Training Program.