December 7, 2018 Robin Witte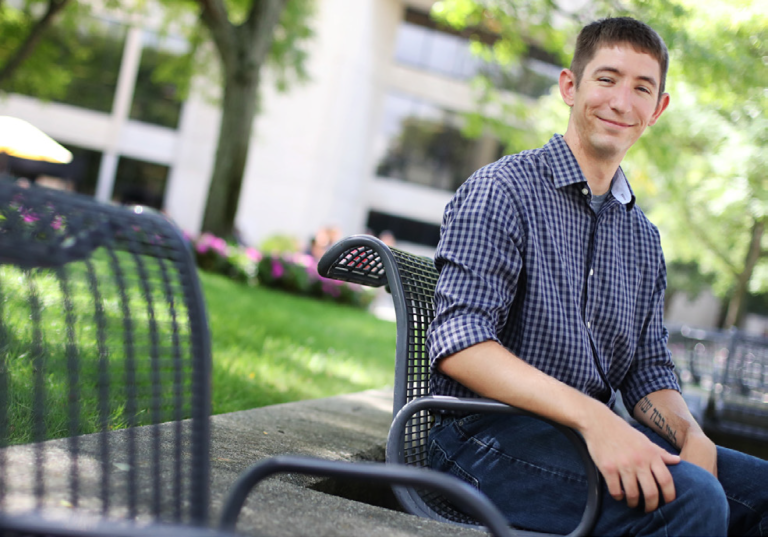 The night before starting classes at Washtenaw Community College in the fall of 2016, Michael Kozma laid in bed contemplating his future. He grabbed his phone from the nightstand and typed into Google: How to succeed in college.
Not surprisingly, the search did not result in any secret formula. But Kozma found one all on his own over his two years at WCC. He says the recipe was a dash of maturity on his part and heaping scoops of knowledge and confidence piled on him by WCC faculty, counselors and advisers.
"Two years ago, I was a college dropout who hadn't had an A in a class this decade," the 27-year-old said. "Two years from now, if everything goes as planned, I'll be applying to Ivy League doctoral programs. That is really insane if you think about where I started, and WCC is a big part of the reason for it."
Kozma recently completed a 66-credit transfer guide built specifically for WCC students headed to the University of Michigan's College of Literature, Science, and the Arts with a 4.0 grade point average (GPA). He started classes at U-M on September 4 with a doublemajor in Economics and Math Science.
Not bad for a high school student who spent one forgettable year at a small four-year college, where he admits he rarely went to class and essentially flunked out before enlisting in the U.S. Army. Upon discharge, he moved back to Chelsea, Mich. where he worked as a security guard, delivered pizza and spent plenty of time slumped on the couch pondering his future.
"You start to perceive yourself differently," Kozma said. "Eventually you think, 'Maybe this is my lot in life. Maybe I don't have the ambition to go any further.' But with a little encouragement, everything starts changing."
Everything did change when Kozma enrolled at WCC in preparation to apply to the college's Police Academy, which requires a minimum of 45 college credits. He never got around to applying – not because of more failure, but because of unprecedented success. He finished that first semester with a 4.0 GPA and a whole new world of possibilities opened up ahead of him.
Kozma said layers of self-doubt began to peel away with every interaction he had at WCC. Instructors convinced him he would excel academically with proper effort. Advisers convinced him attending U-M wasn't a pipe dream, despite that disastrous first attempt at a four-year institution. Another instructor insisted there's no reason a community college student shouldn't be aiming for a doctorate degree. They were all right, of course.
"I think a lot of people at WCC doubt themselves, just like I did in so many ways," Kozma said. "But the instructors do believe in you, and that can make all the difference."
---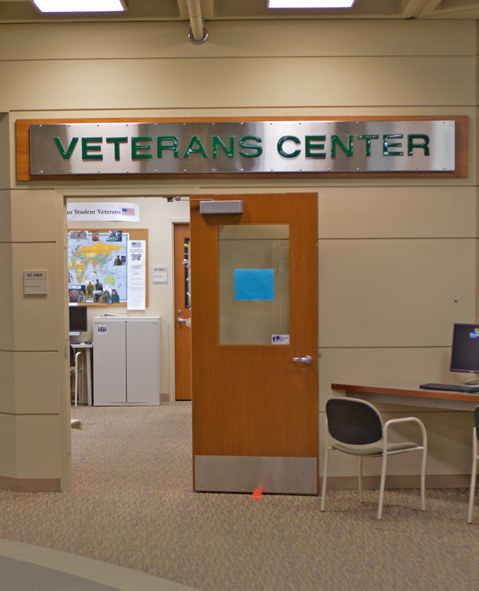 Gold-level Status
Washtenaw Community College is recognized as a Gold-Level veteran friendly school by the Michigan Veteran Affairs Agency. WCC's Gold-level veteran friendly status was granted based on meeting the following Veteran-Friendly School program criteria:
Established process for identification of current student veterans. Veteran-specific website: http://vetcenter.wccnet.edu
Active student-operated veterans club or association: Washtenaw Community College Student Veterans Club
Veteran-specific career services, resources, advising and/or outcome monitoring.
On-campus veteran's coordinator and/or designated staff point of contact.
System to evaluate and award credit based on prior military training and experience.
Monitoring and evaluation of student veteran academic retention, transfer and graduation rates.
Tags: Featured Article, Launch Winter 2019, ousearch_News_Launch Magazine