Managing your Quarantine
WCC is using Exchange Online Protection (EOP) which is Microsoft's product for email filtering against spam, phishing, and other malicious emails. It uses Microsoft's advanced threat intelligence platform to protect WCC from new and evolving threats.
Your email quarantine is where EOP places emails suspected to be phishing or spam. This ensures they do not reach your mailbox, but you can still choose to deliver select messages that are considered 'false positives'.
Use the steps below to manage messages in your Quarantine:
Access the URL listed below from any browser. https://protection.office.com/quarantine
Sign in using your Office 365 credentials (your email address and password).

On your Quarantine page, you'll see a list of any messages that were sent to you, but were identified as spam and redirected to the quarantine. You can click on each message, review it, and release it if applicable by selecting "release message". Report a false positive to Microsoft at the same time to improve filter accuracy (review screenshots below for options).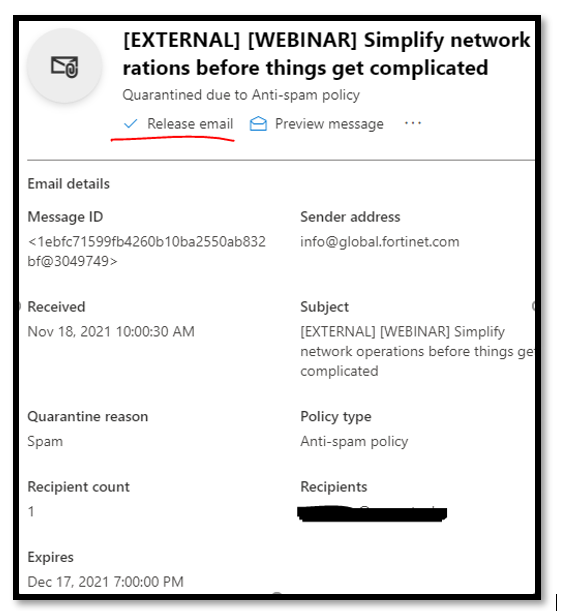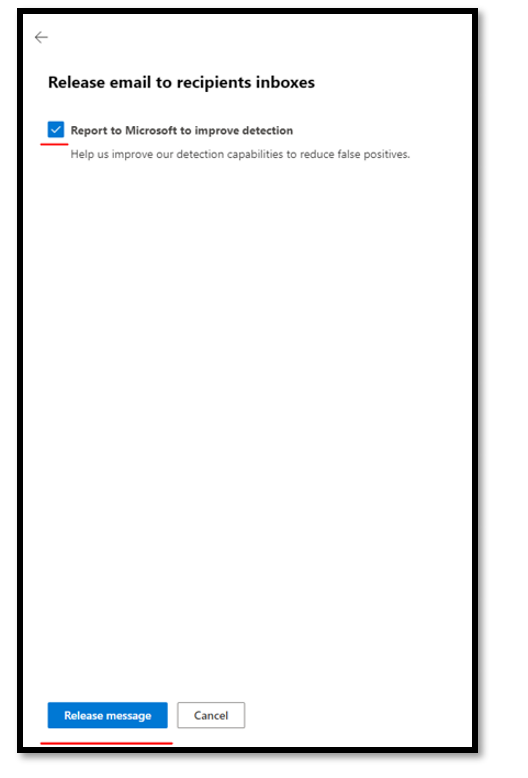 Important points to remember:
If you release a message it will still appear in your quarantine list.
Treat Quarantine as your secondary Inbox and release false positive messages that you find.
Your quarantined messages will exist in quarantine for 30 days. You must deliver within that time window, or the messages will not be recoverable.
When you use "release message" action it simply releases a message from Quarantine to your Inbox. It does not teach Microsoft Labs. The only way to teach Microsoft Labs is to submit a message as a false positive.
You will receive a notice regarding messages in your quarantine. You will not receive a notice each day - just when something new arrives in your quarantine.
If you have a sender on your block list, you cannot deliver their message. If you deliver a message from Quarantine and it does not appear, check your blocked senders list using Managing Junk Email instructions from the URL below:
https://www.wccnet.edu/mywcc/faculty-staff/its/user-services/email/safe-senders-recipients.php
More information available about managing Quarantine here:
https://docs.microsoft.com/en-us/microsoft-365/security/office-365-security/find-and-release-quarantined-messages-as-a-user?view=o365-worldwide